General description:

support winxp /win7/win10 system .

The software is available in 256 colors. The male and female broadcasters can choose different background colors ans to facilitate the male and female broadcasters to choose their own broadcast words. The font and size can be set arbitrarily. A variety of roles can be selected to distinguish the male or female characters.

easy to editdocumens, easy to operate, automatically complete typesetting, support txt, rtf, ppt PDF,JPG.and other format files.

The monitor and high-resolution color display are used respectively, with high definition and clear writing. It is suitable for recording of various TV studios, school studios, stages, etc., and live programs are required.

The exclusive development of mirroring function LCD screen, support VGA, HDMI, USB,AV video signal input, so that the text pictures seen by the guide and the broadcaster are positive image display, support the computer to open any file format.Meanwhile ,support plug and play.

Paragraph format, indentation, and line spacing can all be set. Dates are inserted at any time.

The software supports English, Chinese, Arabic ,French ... etc languages.

The system automatically records the speech, automatically finds and opens the performance draft when power is applied after an abnormal power outage, ensuring the integrity of the broadcast.

Regrards scrolling time, the local time can be displayed on the same screen, arbitrarily set the size of the color, it is easier to put my rhythm, the key statement can be marked by color.

The scrolling speed can be adjusted, and the scrolling speed can also be adjusted by the controller.

No interruption, no flashing

The control method is flexible . the keyboard, mouse, pedal, and wireless remote control can be used.

The subtitle speed can be adjusted freely, and the page turning is convenient.

Professional multi-layer optical glass, the thickness is only: 2mm. The light transmittance is over 97%, and the reflection degree is up to 50%.

Color LCD panel Mirror display, high definition, size 19/20/22/24 inch.

The teleprompter and camera are combined into one and switch to each other to adapt to the broadcast of emergency news.

Self-checking screen, the broadcaster can view his image at any time.Lightweight and easy to install operation . Sliding center of gravity adjustment for balance the teleprompter.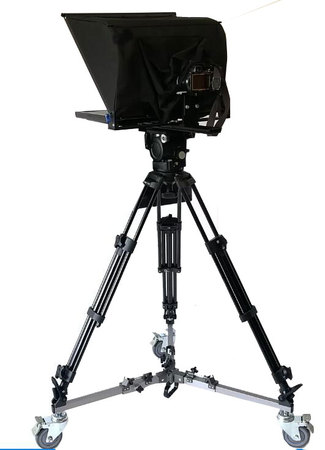 20 inch professional broadcast studio teleprompter
Model no:M-ZYD20
Features:
1. support box lens,broadcasr,Fujinon,Canon and other brand- viturall broadcast setup.
2. For news room ,supporting Events,studio use , and can be customized to fit any pfofessional teleprompter situation.
3. Equipped with a professional tripod and matching wheels and simple tripod ..etc all kinds of tripods .
4. One-piece structure, can be used directly by the camera or the big camcorder; support box lens,broadcasr,Fujinon,Canon and other brand- viturall broadcast setup.
5.Unique custom 60/40 or 70/30 rate beam splitter glass display .
6. Auto-Reversing monitor Support VGA, HDMI, USB.AV video direct input, support Plug and play .
7.The control mode supports wireless remote control and wireless mouse and keyboard, laser pointer and wired Foot pedal.
8.the teleprompter support to use TXT. RTF,PDF,PPT ,Webpage.Jpg and other computer-supported formats as prompt content..
9..Ultrathin 2mm German imported spectroscope, accurate splitting ratio, clear and unbiased text, no impact on camera shooting, making the host's reading easy and enjoyable.
10. Professional flight hard case packing .
11. Adjustable angle :30-90 deponds on the announcer confortale angle .
Packing list :
| | | |
| --- | --- | --- |
|   Professional tripod(optional) | Teleprompter bracket | 20 inch self-reversing monitor |
| Tripod wheels(optional) |   HDMI cable | Camera video bracket |
| imported Beamsplitter mirror | power plug cable | clean cloth ,manual and accessories |
|   teleprompter hood |   software and dongle | wireless remoter  |
Online shop :https://simarcn.en.alibaba.com

Julin

maria-gong520